COMPASSIONATE CREATURE COMFORTS
Apr 11, 2012, 8:26 p.m.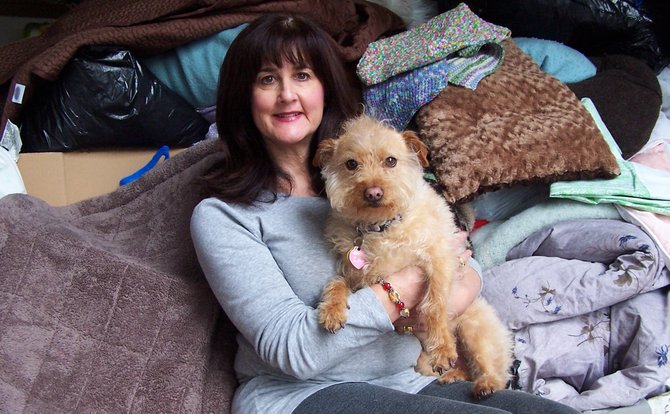 Inspired by one little dog, Eileen Smulson founded Operation Blankets of Love, offering hope to thousands of stray, sick, neglected, abused and homeless animals
By David Laurell
Some folks are cat people, some are dog people, and others have no attraction or attachment to animals of any sort. Eileen Smulson was of the latter. She says that, as a young girl, while she didn't have a dislike for animals, she just never gave them any thought at all. Even as an adult, after moving from New Jersey to Los Angeles and meeting and marrying her animal-loving husband, Brad, Eileen still had no connection with cats, canines or any other four-legged creature.
While the idea of bringing a dog into her life and home was about as foreign a thought as could be for Eileen, that was not the case with Brad. Having voiced his desire, on numerous occasions, to someday get a dog, Eileen finally reluctantly agreed to give it a try. The couple began visiting local shelters in search of a dog, but soon Eileen stopped going because she just didn't feel any sort of connection with the caged canines. While Brad continued the search, Eileen didn't give it much thought, until one day when the couple happened to notice a rescue group staging an adoption at a Petco in Porter Ranch and stopped by.
As is the case with most of us, our lives can be and are dramatically changed by another person, event or animal. On that day, in that Petco, Eileen's life was forever changed by one little homeless dog – a five-month-old terrier-poodle mix that had been found as a stray and named Ginger.
According to Eileen, Ginger initially caught Brad's attention because she seemed shy and was not a part of the barking pack, all vying for a home. Still, when Brad picked her up and Eileen stroked Ginger's head, she says she felt nothing special. That was not the case with Brad, who was clearly so captivated by the little pooch, the rescue volunteers began thinking a match had been made. Explaining that he did have some trepidation because his wife had never owned a dog, the woman who headed up the rescue believed that, with just a little time, Eileen would come around and start feeling very differently.
That didn't happen – at least not the first night when the uncomfortable and anxious Eileen demanded "the dog" sleep outside in a crate. Brad acquiesced, for that first night, but then put his foot down and insisted that Ginger was going to sleep in the house.
Slowly, from the house to their bedroom to their bed, Ginger began wiggling her way into Eileen's heart, and she soon began taking Ginger to training classes. "That was when I really fell in love with her," says Eileen. "She followed me everywhere and I totally accepted her into my life as my baby. The unconditional love she brought me was like nothing I had ever experienced."