FATHER AND SON TEAM OFFERS SENIORS SOLUTIONS FOR AGING-IN-PLACE
Mar 5, 2012, 12:53 p.m.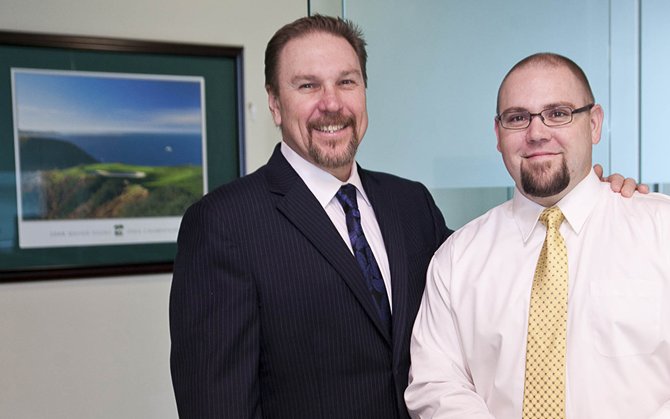 In 2008, our nation's economy was struggling, and the housing industry was struggling even more. That's when two building industry veterans, Chuck Kalman and his son Chuck Kalman, Jr., started looking for ways that they could use their combined 40-plus years of experience to help themselves and, most importantly, to help others.
After extensive research and lots of soul-searching, the Kalmans decided to focus on providing solutions that would enable seniors to fulfill their wishes and live out their years at home. Armed with the knowledge that 85% of seniors surveyed who were living in senior and long-term-care facilities would have chosen to stay at home if they could have found a way to do so, they established HomeLife Concepts to help make that choice attainable.
"Living at home for as long as possible resonates throughout generations of Americans," Chuck Kalman Sr. observed. "Through home modifications and improvements, HomeLife Concepts helps preserve dignity, independence and quality of life at home. We work with our customers to help them live without barriers, because we understand that life is best at home. And by enabling them to remain in a place that is familiar to them, we eliminate the stress of relocating."
Aging-in-place is a design philosophy that looks at remodeling and home building for the Boomer population. It strives to make standard homes as accessible and free of obstacles as possible. From level entry at the front door and in showers, to toggle- switch lighting and adjustable-height counters, every aspect of a home is influenced when a residence is built or remodeled with universal design standards and aging-in-place in mind.
As Certified Aging-in-Place Specialists (CAPS) accredited by the National Association of Home Buiders and recommended by AARP, the experts at HomeLife Concepts are not only trained in aging-friendly solutions to common remodeling projects, they are trained to understand the entire aging process and its unique demands. By understanding the nature of aging, a Certified Aging-in-Place Specialist is the best contractor possible when it comes to assessing your home, developing designs to make it more universally livable, and following through on those designs by performing the remodeling work.
"The essence of home is to feel safe in your environment where you have the ability to control experiences and live comfortably," Chuck Kalman Jr. pointed out. "Aging can lead to reduced physical abilities and loss of the ability to get around. Later in life, the home you love can become difficult to maintain or even unsafe, unless you make a few necessary changes."
HomeLife Concepts offers a full spectrum of solutions to those age-related issues, from
individual room modifications to design and construction of a fully custom homes. "Our projects may be as simple as installing grab bars in a shower or bathtub to ensure risk-free bathing or complete aging-in-place solutions that include kitchen and bath remodeling, security and call systems, ramps, elevators and much more," Kalman Jr. explained.
Here are just a few of the services that HomeLife Concepts offers:
Step-free entrance (a gradual, level grade; no conspicuous ramps)
All doors without thresholds that are wide enough for a wheelchair or walker (36")
Various heights of kitchen counters
Open knee space under all sinks
Large bathroom with decorative grab bars
Full extension drawers and shelves in kitchen base cabinets
Add an elevator or stair lift
Lower light switches, raise electrical outlets
Wood, non-slip tile and dense-weave, low-pile carpet flooring
Large bathtubs with plenty of grab bars
Curbless roll-in showers with plenty of grab bars
17-19" toilets for easier access
Slide bar for shower head
Hand-held, flexible shower fixture
Lever handles on doors and faucets
Wider hallways (46")
Easy open/close windows
Automatic door openers and closers
HomeLife Concepts' services are not limited to meeting the needs of seniors. The company also offers a variety of injury solutions for victims of accidents, medical setbacks and even military conflict, regardless of their age. HomeLife Concepts specializes in modifications to the home that accommodate wheelchairs, limited mobility and other limitations. Creative and aesthetically pleasing solutions are designed to improve quality of life and keep you home.
Based in Irvine, California, HomeLife Concepts is currently making its expertise available to homeowners throughout Southern California, including Los Angeles, Orange, Riverside, San Bernardino and San Diego Counties.
To schedule a free in-home consultation, please call (888) 940-4HLC or visit the company's website at www.homelifeconcepts.com, select "contact" and fill out the form with the requested information.
Chuck Kalman, Sr. and Chuck Kalman, Jr. have joined forces to provide a new resource of solutions for anyone who wants to continue to live comfortably, safe and independent in their home.
Editor's Picks
Most Recent