CHERYL LADD AND BRIAN RUSSELL – ONE WINDOW, TWO REFLECTIONS
Feb 4, 2014, 12:36 p.m.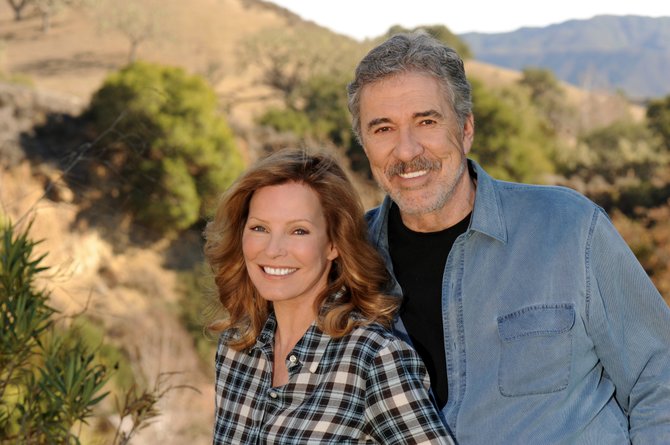 Married for 33 years, Cheryl Ladd and her husband, Brian Russell, reveal how they keep love and romance alive
By David Laurell * Photo by Dean Keefer
A set of blueprints for a magnificent house is rolled out on the dining room table of a home nestled into a canyon on the outskirts of Solvang, California. Poring over them is a strapping gentleman and a beautiful woman.
"We're great buddies and friends," says the gentleman as he leaves the plans and strolls over to a couch in the adjacent den where he is soon joined by the beautiful woman to whom he has been married for over three decades.
"Thirty-three years in January," she states proudly as she settles into the couch and rests her head on his shoulder. "That's like 125 in Hollywood years."
And to what do the beautiful woman – actress Cheryl Ladd – and the strapping gent – producer and author Brian Russell – attribute their many years of wedded bliss?
"My patience," Brian reveals without a second's hesitation.

"And I'm a saint," Cheryl adds with equal rapidity.
Brian throws his head back with a laugh and Cheryl giggles over their respective answers as the couple's labradoodle, Crockett, jumps up and snuggles in beside them.
"Cheryl and I were both married before," says Brian. "Why do some marriages work and some don't? I think it's just a matter of being with the right person."
Cheryl shakes her head in agreement.
"You know why our marriage works?" says Brian. "It's because of something Cheryl once said that I love. She said 'We see through the same window.' "
The Last Thing on Their Minds
While the window through which Brian and Cheryl view love and life is today one and the same, the thought that they would have ever been mutually peering through a single portal as a couple was the last thing on either of their minds when they were first introduced by legendary record producer David Foster in 1974.

At the time, the South Dakota-born Cheryl had already begun to make her mark in Hollywood as an actress and recording artist. Having broken into the business under the name Cherie Moor, she provided the singing voice of Melody on the Hanna-Barbera animated series, "Josie and the Pussycats." That led to a recording contract and acting roles in commercials and small roles on some of the most successful television series of the time including "The Rookies," "The Partridge Family" and "Happy Days."
Married to actor and film producer David Ladd, son of the legendary actor Alan Ladd, Cheryl did not exactly have the look of a potential future wife when Brian, who was working as a singer and record producer, first laid his eyes on her.
"I was very pregnant with my daughter, Jordan, when we first met," says Cheryl.
" 'Very' being the operative word there," Brian quickly interjects with a laugh. "She was VERY pregnant – as in fill-the-room pregnant. So she was hard to miss."