MARIEL HEMINGWAY – MUSING ON "MANHATTEN," MOTHERHOOD, MENTAL ILLNESS AND MORE
Jul 3, 2015, 8:35 a.m.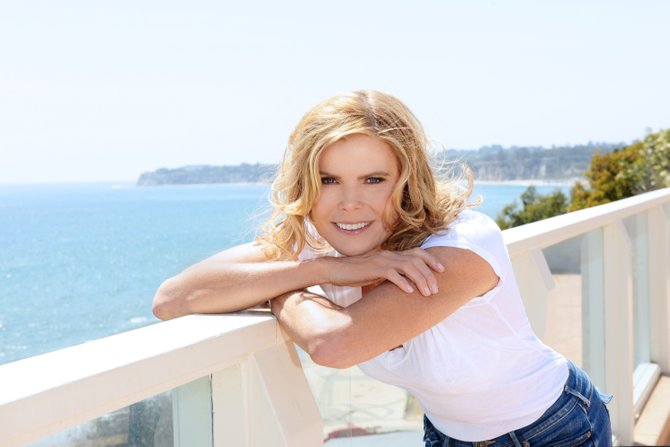 Story by David Laurell * Photo by Keith Munyan / www.keithmunyan.com
Before she was out of her teens, Americans had already been introduced to Mariel Hemingway through her roles in the 1976 revenge drama "Lipstick" and Woody Allen's 1979 romantic dramedy "Manhattan."
In both films, Hemingway's ingénue characters deal with adult situations and circumstances that ranged from being disturbingly and violently shocking to a revamping of Vladimir Nabokov's controversial "Lolita."
Emerging in the spotlight of popular culture as a Golden Globe- and Academy Award-nominated actress – the seemingly precocious and sophisticated granddaughter of Ernest Hemingway and sister of supermodel and actress Margaux Hemingway – Mariel began to be perceived as a juvenile jetsetter, as apt to show up surrounded by the paparazzi on the French Riviera as she was an underage patron of New York's legendary Studio 54 nightclub.
At least, that was the perception.
In reality, she was a naïve young girl living in Ketchum, Idaho under the cloud of "The Hemingway Curse;" struggling to exist in the fragile and dysfunctional world of a family that suffered the travails of emotional instability, mental illness, alcoholism, suicide, drug addiction and cancer.

Living a dual existence, with one foot planted in the Idahoan world of madness that had her feeling like an invisible girl desperately trying to cope, while the other stood in the bright lights of New York and Hollywood film sets, Hemingway didn't just survive, she blossomed and triumphed.
Along with her acting career, she has carved out a life as the mother of two beautiful daughters, has become a prolific author, an adventurist, eco-activist, healthy lifestyle and mental health advocate and sought-after speaker focused on mind-body-spirit optimization and purposeful living.
Turning the difficulties of her own early life into positive solutions to establish a sense of balance, peace, joy, fitness, integration, and authenticity, she has become both a devoted teacher and a continuing student in the understanding of a holistic approach to life.
Today, working with her partner, stuntman Bobby Williams, she has become a tireless advocate, lecturer and writer promoting good nutrition, meditation, the beauty of simple living, a connectedness to self and Earth. She also preaches that coping mechanisms, help and healing is available for dealing with mental health issues and substance abuse.
Along with her best-selling memoir, "Finding My Balance" (Simon & Schuster, 2004), an honest and inspiring story of her life's journey, Hemingway has also written "Mariel Hemingway's Healthy Living From the Inside Out" (Harper Collins, 2007), a how-to guide to finding a greater sense of balance, joy and meaning through self-empowering techniques and strategies, and a healthy lifestyle cookbook, "Mariel's Kitchen" (HarperCollins, 2009). She also worked with Oprah Winfrey who produced a 2013 documentary about Mariel and the Hemingway family entitled, "Running From Crazy," which dwells on Mariel's boundless advocacy for mental health awareness.
In her deeply moving and searingly honest new memoir, "Out Came the Sun: Overcoming the Legacy of Mental Illness, Addiction, and Suicide in My Family" (Regan Arts, 2015), Hemingway shares, in candid detail, the story of her troubled childhood. Born just a few months after her legendary grandfather shot himself, it was Mariel's mission to escape the desperate cycles of severe mental health issues that had plagued generations of her family. Surrounded by a family tortured by her parents' alcoholism, her sister Margaux's depression and substance abuse, the suicide of her grandfather and four other family members, the severe mental health issues including schizophrenia that gripped her sister Muffet, and her mother's battle with cancer, it was all the young Mariel could do to keep her sanity.