THE NEUROLOGICAL LIGHTS ARE BRIGHT ON BROADWAY
Jan 1, 2016, 11:28 a.m.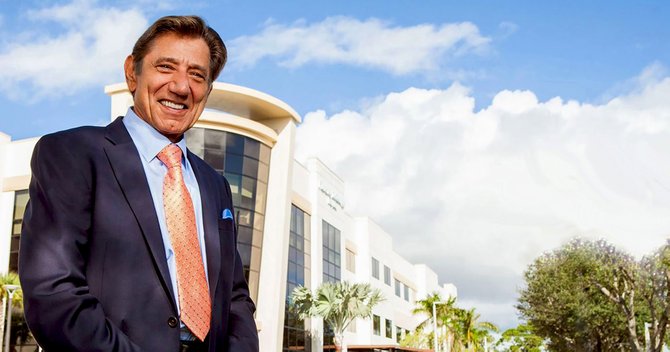 Super Bowl III-winning quarterback Broadway Joe Namath has huddled up with a neurological team to seek a victory over traumatic brain injuries
Story By David Laurell * Photo by Vanessa Rogers
During the early 1970s, Broadway Joe Namath was the undisputed playboy of the western world, serving as a spokesman for everything from shaving cream, corn poppers and chocolate drinks to recliners, men's cologne and pantyhose. Today, with so many questions and concerns being raised about sports-related safety sparked by the film "Concussion," Namath is still serving as a spokesperson, but for something that transcends the desire to smell good, get a close shave, or have your legs look good: a successful treatment for traumatic brain injuries.

On the cover of the November 1972 issue of LIFE magazine, a then-29-year-old Joe Namath looked happy, relaxed and elegant in a dark blue tux. The caption read: "The juicy rewards of a painful life."
On the cover of this month's Life After 50, 44 years later, still looking happy, relaxed and elegant in another blue suit, the man who led the New York Jets to a "guaranteed" victory in Super Bowl III continues to live a life of great reward. Revered by those who grew up watching him play, as well as those who have been told about him by their fathers and grandfathers, Namath is now the father of two married women who have blessed him with three grandchildren he adores. But, his has also continued to be a life of pain as he has, both reactively and proactively, battled the medical issues that come in the aftermath of the physical punishment a professional athlete endures.
While the Psalmist may have offered up due praise to the Creator for the way the human body is wonderfully made, Namath points out that there is nothing about the way we have been constructed that was made for playing the game of football. That fact has become an acute issue in the wake of studies which have shown a direct link between repeated head impacts and a condition called chronic traumatic encephalopathy (CTE) coupled with the recent release of the Sony Pictures film "Concussion." The film, based on an article Jeanne Marie Laskas wrote for GQ magazine in 2009, chronicles the story of Dr. Bennet Omalu, a pathologist who made the first findings and correlation between CTE and those who have played professional football.
A condition that is made manifest by symptoms of memory loss, confusion, depression and dementia that can show up decades after the trauma, the risk of developing CTE comes with traumatic brain injuries (TBI) such as concussions and cumulative non-concussive impacts. For those who have engaged in contact sports such as football, those injuries can often have first occurred as early as during youth league or high school play.
The existence of CTE can only be ascertained in a post-mortem examination, and a recent study showed that 96 percent of deceased men who have played professional football showed signs of CTE. Responding to this research, the NFL made a $30-million dollar grant to the National Institutes of Health to help fund research focused on CTE and, in a November 2015 airing of a "60 Minutes" story on CTE, NFL Commissioner Roger Goodell told correspondent Steve Kroft that the evidence being uncovered has served as a catalyst for the league to seek and implement greater safety measures to decrease head impacts and remove players from a game if it is believed a head injury has occurred.