MEET THE MAN BEHIND THE ANCHOR DESK OF "NBC NIGHTLY NEWS WITH LESTER HOLT"
Oct 3, 2016, 11:39 a.m.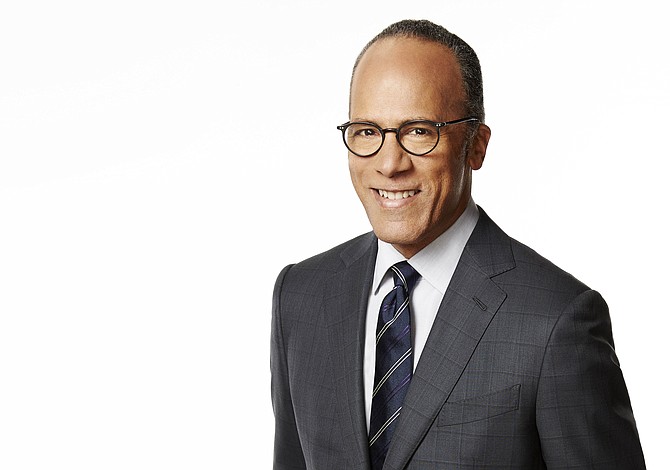 The anchor of "NBC Nightly News with Lester Holt" shares his views on journalism, the 2016 presidential campaign and much more
Story by David Laurell * Photo courtesy NBC News
Unless he has been dispatched to an area of the nation or the globe that is either reveling or suffering as the momentary epicenter of the world's attention, Lester Holt, the anchor of "NBC Nightly News with Lester Holt" and "Dateline NBC" begins his work day shortly after 9 a.m. as he enters one of New York's most storied addresses: 30 Rockefeller Plaza.
It is in that famous Art Deco building that has housed the offices, newsrooms, technical facilities and studios of the National Broadcasting Company since 1933, that, from behind his office desk, Holt looks out on the Channel Gardens adorned with seasonally themed flora that soften the hardscape between the Prometheus-guarded skating rink and Fifth Avenue.
"This is the coolest address in television," he states, with a pride befitting his network's iconic peacock. "Not a day goes by that I don't walk in here and not think about the history of this building. I look out this window many times throughout the day, watching the tourists from all over the world and seeing the buzz and excitement around this place. When you think of all the history of this place, and all the broadcasts that come out of here now: 'The Today Show,' 'Dateline,' 'The Tonight Show,' 'Late Night,' it's really an amazing place."
The amazement of this place which harbors NBC's rich broadcasting history and its legendary ghosts – Steve Allen, Jack Paar, Johnny Carson, Dave Garroway, Chet Huntley, David Brinkley and John Chancellor to name a few – each who did so much to influence the way Americans think and laugh and live their lives, hits Holt even harder when, eight hours after his arrival, he makes his way to Studio 3B to apprise the nation of the day's happenings.
"When I walk through the halls on the third floor, there are video screens that flip from one image to another that shows you what was done in each studio over the years," Holt points out. "The studio where we do 'NBC Nightly News' was once used for 'The Today Show,' back when Tom [Brokaw] and Jane Pauley were there. Every bit of this place is a real history lesson."
Back in the early 1980s, when Brokaw and Pauley presided over "The Today Show," and then Brokaw eventually left to take over the reins of "NBC Nightly News," Holt, who had attended California State University, had already cut his teeth as a reporter. Beginning his career as a reporter with WCBS in New York he then went on to reporting and doing weekend anchor duties with KNXT in Los Angeles. The experience he garnered in the nation's top two television markets then took him to Chicago for what would be a 14-year stint as a reporter and anchor at the Windy City's CBS affiliate WBBM.
Joining NBC News in 2000 as an afternoon anchor at MSNBC, Holt worked on "The Today Show," "Dateline," MSNBC's "Lester Holt Live" and, in 2007, began anchoring the weekend broadcasts of "NBC Nightly News." In 2015, Holt replaced Brian Williams as the weekday anchor of "NBC Nightly News with Lester Holt," making him the first African-American to be the sole lead anchor on one of the three major broadcast networks' weekday nightly newscast.