FINDING COMFORT AND COMPANY IN EUROPE'S CAFES AND PUBS
Sep 5, 2016, 5:35 p.m.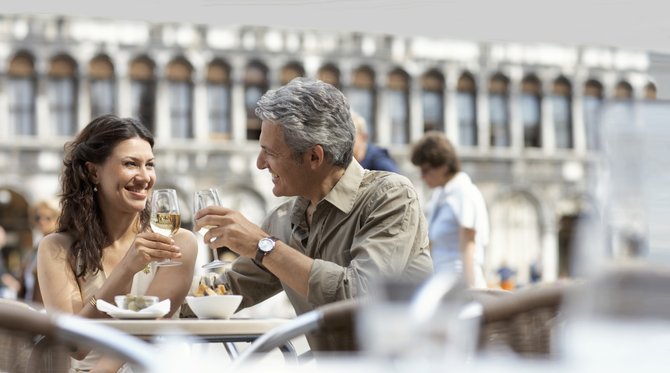 By Rick Steves
After a busy day in Vienna, there is nothing like retreating to a velvet couch at the renowned Café Hawelka. The decor here is c. 1900, with smoke-and-coffee-stained furniture and walls adorned with paintings by struggling artists (who couldn't pay for coffee). This creaky Viennese institution, where intellectuals such as Leon Trotsky once stewed, has become my local living room when visiting Austria.
All over Europe, I seek out cozy establishments such as this to relax, nurse a drink, and strike up a conversation. Delving into the café culture and historic pubs of the world's most elegant cities is an enriching way to get some distance from the sightseeing crowds, lighten up a museum-heavy itinerary, reflect on my travels, and pick up on some insider lore.
Vienna's Café Hawelka is the creative epicenter for artists, poets, and revolutionaries. Old Man Hawelka himself may have served a melange (as they would have called their cappuccino) to Trotsky, Stalin, Klimt, or Freud in the early 1900s. I ponder how, in the last days of Europe's family-run empires (essentially all of which died with the end of World War I), Vienna was a place of intellectual tumult — and coffeehouses like this were the social backdrop.
Across town, the iconic Café Sperl dates from 1880 and is still furnished identically to the day it opened — from the coat tree to the gold chandeliers to the ornately upholstered chairs. An afternoon in this cultural treasure feels like an afternoon among the city's 19th century creative minds and military elite. With a wide selection of newspapers, and take-all-the-time-you-want charm (despite the famously grumpy waiters), every Viennese coffeehouse offers its own individual character and a welcoming space oozing with history.
In Venice, the venerable Caffè Florian is perfect for a sightseeing break. Sitting elegantly on St. Mark's Square, Caffè Florian has been a popular spot for a discreet rendezvous since 1720, and everyone from Lord Byron to Woody Allen has paid too much for a drink here. Tourists stake out tables on the square to people-watch and enjoy the Caffè Florian orchestra, which performs each hour with a repertoire including classical, jazz, operetta, and Venetian. But for elegance and ambience, romantics sit inside to appreciate richly decorated rooms, each with a historic or artistic theme, such as the "Room of the Illustrious Men," which features portraits of great Venetians from Marco Polo to Titian.
You'll find more cozy comfort in Amsterdam's bruin (brown) cafés. These after-hours hangouts get their name from their dark hardwood interiors and nicotine-stained walls, embracing the gezellig (cozy) quality that the Dutch hold dear. Don't confuse these with "coffeeshops," where the Dutch gather to buy and smoke marijuana (coffeeshop windows display plants and Rastafarian colors). Brown cafés project a more elegant atmosphere and usually specialize in beer, while others focus on Dutch gin (jenever); most also serve wine and coffee. Drop in and linger over a drink. Whether in a brown café jammed with noisy patrons or one that's sleepy and mellow, you'll find a convivial living room.