HERBIE J PILATO – THE SPRINKLER OF STARDUST
Jan 5, 2017, 4:52 p.m.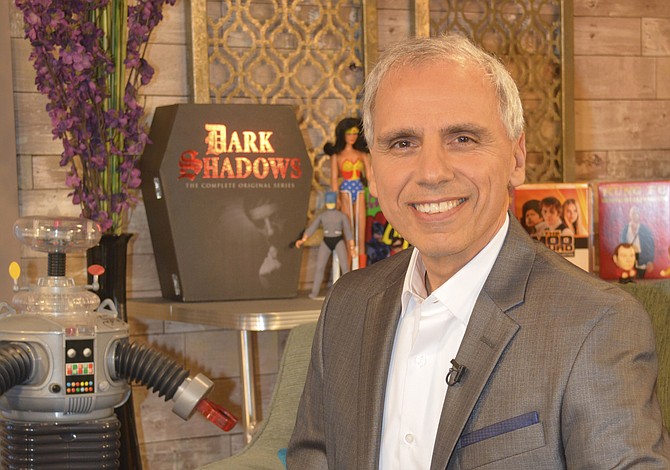 The television virtuoso, founder and president of the Classic TV Preservation Society and host of the Decades Network's new show, "Then Again," shares his insight on the medium's past and present
Story and photo by David Laurell
Herbie J Pilato has just finished taping an episode of his new show, "Then Again with Herbie J Pilato," which will debut on the Decades Network in the first quarter of 2017. As his guest, Burt Ward, who played Robin in the 1960's "Batman" series, is mingling with crew members – signing autographs and posing for photos – Pilato quietly stands in the shadows of the studio's set.
"This is just what I wanted the show to be," he says. "An opportunity for viewers to get a glimpse into the lives of the men and women who played instrumental roles in the television shows they grew up with."
Pilato is a writer, author, producer, performer, consultant and entertainment executive who has worked on numerous television productions, including Bravo's five-part series, "The 100 Greatest TV Characters," "Bewitched: The E! True Hollywood Story," A&E's biography of Lee Majors, and TLC's "Behind the Fame" specials on "The Mary Tyler Moore Show," "The Bob Newhart Show," "Hill Street Blues" and "L.A. Law."
He has served as a consulting producer and onscreen cultural commentator on documentaries for Sony, NBCUniversal and Warner Bros., including "The Six Million Dollar Man," "Kung Fu" and "CHiPs."
The author of a long list of top-selling, critically acclaimed pop culture and classic television-related books published by Taylor Trade Publishing, Pilato's best-known tomes include "Dashing, Daring and Debonair: TV's Top Male Icons from the '50s, '60s and '70s" (2016), "Glamour Gidgets and the Girl Next Door" (2014), "The Essential Elizabeth Montgomery: A Guide To Her Magical Performances" (2013), and "Twitch Upon a Star: The Bewitched Life and Career of Elizabeth Montgomery" (2012).
He has also authored "The Kung Fu Book of Wisdom" (Tuttle Publishing, 1995), which, based on the series, offers readers a set of principles for living a peaceful and fulfilling life, and "NBC & ME: My Life as a Page in a Book" (BearManor Media, 2008)," a memoir of his time as an NBC page where he worked on numerous shows including "The Tonight Show Starring Johnny Carson."
Along with writing for and about television, Pilato the actor has appeared in roles in "Highway to Heaven," "The Golden Girls," "General Hospital" and "The Bold and the Beautiful," to name a few. He has also appeared in numerous feature films and stage productions.
In 2010, Pilato founded the Classic TV Preservation Society, a nonprofit organization that offers seminars on a diverse range of topics and is dedicated to the positive influence of classic television programming. The society's mission is to educate individuals on the social significance of television, with specific regard to family values, diversity in the workplace, and mutual respect for people of every cultural background, heritage, race, creed and sexual orientation.
The founder and creative director of Television, Ink. and All-Creative Consultants, Pilato also serves as a contributing editor for www.TVWriter.com, is a frequent contributor to the Television Academy's www.Emmy.org, and is a consultant for Closer Weekly magazine.